In accordance with API SPEC Q1 Standard (American Petroleum Institute) and ISO9001:2000 Standard, Jereh has established quality control system and formed her own quality documents by which employees in all positions are systemically trained. Quality of every process from purchase to delivery is effectively controlled.In September of 2006, Jereh was approved and certified ISO9001:2000, API Q1 and ISO/TS29001 certificates by API. In subsequent years, Jereh is approved annually by API and certificates are continuously valid.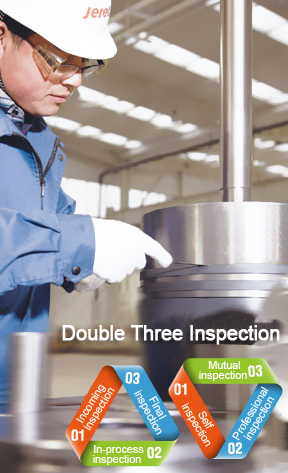 QC in Purchase Process

Superior suppliers facilitate the guarantee of products quality. Jereh's each supplier is strictly evaluated and finally determined by R&D Dept., QC Dept. and Purchasing Dept. Monthly and annually assessments are conducted on product quality, delivery period, degree of cooperation and other aspects.

Product Quality Inspection

Jereh strictly executes the "Double Three Inspection" quality inspection management which combines incoming inspection, in-process inspection and final inspection with self inspection, mutual inspection and professional inspection.
The incoming inspection and final inspection adopt professional inspection; the in-process inspection adopts self inspection, mutual inspection and professional inspection. This "Double Three Inspection" guarantees that unqualified products are identified for warehousing, being transferred and delivered.

Welding Quality Control

Welders and weld procedures are certified by ASME and ABS;
ASME and NB certification for pressure vessels is obtained;
Welding equipment is annually checked;
Base materials are re-inspected by the third party;
Magnetic Particle testing, Radiographic Testing, Penetrant Flaw Testing, and Ultrasonic Testing are conducted.

Painting Quality Control

Workers paint in accordance with Specifications for Painting and process requirements. QC engineers inspect thickness of coating, surface of coating, temperature, humidity and temperature of parts.

Assembling Quality Control

Compressor packages are assembled in accordance with Generic Specification for Assembly Process and In-process Inspection Sheet. QC engineers inspect the whole compressor package according to Specification for Final Inspection and In-process Inspection Sheet and fill out Records for Final Inspection.

FAT Quality Control

After compressor packages are completed, QC engineers shall inspect them in all aspects in accordance with Inspection Specifications and fill out Records for Final Inspection. After incoming all inspection and in process inspection are qualified, QC engineers shall conduct FAT as per Specifications for FAT and issue Test Report.